ASK 731SP 3G Smartpad Review
Tablet El-Cheapo
Recently, the market has been flooded by a number of cheap Android tablets - most of them rather iPad lookalikes than iPad killers. I recently picked this one up in Hong Kong, where it sells for around 1700 HKD, which roughly equals 160 EUR. A quite reasonable price, considering that it features a 7 inch capacitive multi touch screen. So is the Smartpad the gem in the pile of chinese plastic junk, or is it rather the other way around? Let's find out.
The device
The Smartpad looks quite typical for a tablets; glossy front with nothing on it, a metal frame, and a white plastic back.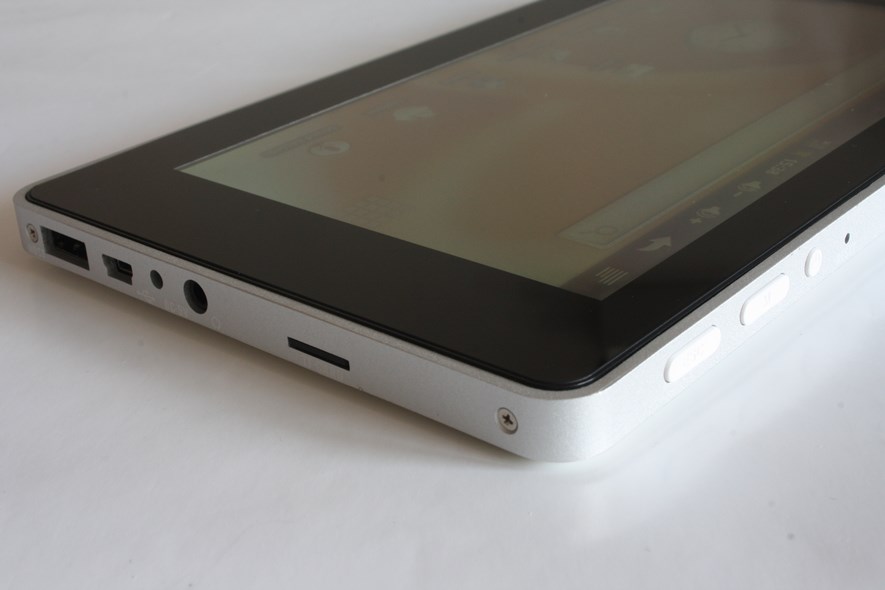 In the side of the tablet, there is a regular USB port. According to the product sheet, a 3G modem can be connected to this port, thus the inclusion of 3G in the name (just to make this clear: the device itself lacks any 3G capabilities). The USB port can also be used for USB sticks, a keyboard or a mouse. By using a USB hub, several devices can be connected - both a keyboard and a mouse, for instance. Using Android with a mouse feels a bit odd though.
The included case, which contains a keyboard, transforms the device into something that resembles a flimsy netbook. Thumbs up.
Using it
As we start navigating around the menus, we do notice that things are a bit sluggish. Everything works, but it definitely lacks the smoothness and snappiness of the iPad. This is much because of built in low-cost CPU, a Rockchip RK2818, running at 660 MHz. The display feels good though and can tell tapping from flipping quite accurately.
When using the browser, web pages show up as expected. Scrolling and pinch-zooming both work, although a bit slow - especially as the page is still loading. In general, this pretty much sums it up - web pages work, but it feels a bit slow and and will require some patience. Note, also, that since we are running Android 2.1, flash does not work out of the box.
I cannot say much about video playback. It just works with no problem, and watching movies on the 7'' display is very comfortable.
I was surprised to see that the battery life was quite acceptable. Watching a full length movie eats up about 30% of the battery, which means that watching two and probably even three two-hour movies should be possible.
Apps
Downloading and installing apps from the Android Market usually works without a hitch, but there are a few problems. Here is a dealbreaker for many: Angry Birds does not work. It just doesn't start. Moreover, I am unable to sign in to Skype, it just says "Signing in..." forever.
Conclusion
So do I recommend it? Well - it wasn't terribly expensive and it does most of the things I expect of it. For watching videos, reading e-books and doing some web browsing, the Smartpad does well. I am missing a few things however - a webcam, Android 2.2 preloaded and a faster CPU would have been great. Angry Birds would have been a plus as well. But for me, this is a good start.
Now, I happened to notice that there is an A-Pad (MT2818) with the exact same specifications as the Smartpad, but with HDMI out added, selling for about 10% less. Something to consider first.